California Traffic Safety Institute (CTSI) is a non-profit company, which has been providing staffing and other services to the California Superior Courts in the administration of the traffic violation school programs since June 27, 1985.
CTSI operates under the legislative authority of CVC 11205 as amended in September 1991.
Pursuant to AB2499, which was passed in the 2009-2010 legislative session, effective July 1, 2011, traffic violations where a defendant has elected or been ordered to attend a traffic violator school (TVS) will no longer be a dismissal on the driving record. They will now become a confidential conviction.
A confidential conviction will mask the violation from your public record. Insurance companies will not see the confidential conviction.
A traffic violator school conviction will not be masked if:
There is a successful TVS completion within the previous 18 months.
The conviction is a major (2 point) violation (DUI or Reckless Driving).
The driver was operating a commercial vehicle at the time of the violation.
A Class A or B licensee operating a non-commercial vehicle (0 points displayed).
Important Traffic School Attendance Information:
A court may refer a driver to traffic violator school at any time. However, California Vehicle Code Section 1808.7 mandates that only one conviction in an eighteen (18) month period be masked from public view on your driving record. The eighteen (18) month period is calculated from citation/violation date, not class attendance date. Courts are required to adjudicate all major (2 point) violations; courts are prohibited from sending drivers who commit major violations to traffic violator schools for the purpose of masking a conviction.
If you need an extension of time, please contact the court which imposed the sentence; CTSI has no authority to grant extensions. You may attend any traffic violator school with a valid license status listed on the DMV's web-site. When you have completed the course, the school will issue you a receipt and the school will file the completion certificate electronically.
Benefits of Attending Traffic Violator School:
NOTICE: If you are eligible and decide not to attend traffic school your automobile insurance may be adversely affected. The citation will also go on your record and reflect the point count that goes along with the violation.
Whats New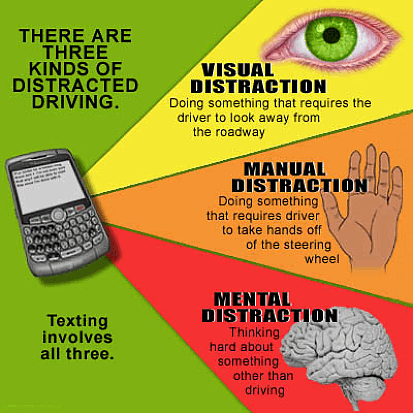 Traffic Safety Partners Make Plea to Motorists: 'Silence the Distraction
'
"Driving is a complex task, requiring a motorist's full attention," CHP Commissioner Joe Farrow said. "Imagine driving for four or five seconds while blindfolded. That can be the effect of looking down while driving to send a text message. In the average time it takes to send a text message – less than 5 seconds – a car travelling 60 mph will travel the length of a football field."
Collisions caused by distraction occur daily throughout California. In 2013, there were 50 people killed and nearly 4,000 people injured as a result of driver distraction.
Throughout April, officers in each of the CHP's eight field Divisions will focus their efforts on educating the public about the dangers of distracted driving through local media interviews, visits to schools, and traffic safety presentations. In addition, two dates (April 1 and 15) have been earmarked as special statewide education and enforcement days for all law enforcement agencies that are participating in the traffic safety campaign.
The urge to read and answer a text message when hearing the text notification can be enticing. The OTS has adopted the message of "Silence the Distraction" in new public service announcements aimed at getting drivers to turn off cellular telephones while driving so they will not be tempted. In addition, an outreach event featuring texting cartoon "emojis" will be touring community colleges throughout the state to engage the most vulnerable texters – 18- to 30-year-olds.
"No text, call, or social media update is worth a crash," said OTS Director Rhonda Craft. "With an average of less than a second to react to an urgent situation on the roadway, drivers need to have all their attention on the road."
While distracted driving can take many forms and affects all road users, younger drivers pose a greater risk.
During California Teen Safe Driving Week, April 1-7, Impact Teen Drivers will focus on educating teens that the number one killer of teens – reckless and distracted driving – is 100 percent preventable.
"People are realizing everyday behaviors, such as texting or reaching for a dropped item, can be lethal when done behind the wheel," Kelly Browning, Ph.D., Executive Director of Impact Teen Drivers, said. "The next step is more complicated—getting people to choose to change their behavior."
Safe driving is the responsibility of all motorists. Parents, as role models, are in the ideal position to demonstrate good behavior to their children operating a motor vehicle.
"All of us who drive are responsible for keeping the roads safe. If you have teenagers in your family who are driving, make sure they understand the laws and what their responsibilities are as well," Commissioner Farrow added. "The collective goal with this month-long campaign is to change the behavior of all drivers to eliminate distractions behind the wheel. That change begins with education."