California Traffic Safety Institute (CTSI) is a non-profit company, which has been providing staffing and other services to the California Superior Courts in the administration of the traffic violation school programs since June 27, 1985.
CTSI operates under the legislative authority of CVC 11205 as amended in September 1991.
Pursuant to AB2499, which was passed in the 2009-2010 legislative session, effective July 1, 2011, traffic violations where a defendant has elected or been ordered to attend a traffic violator school (TVS) will no longer be a dismissal on the driving record. They will now become a confidential conviction.
A confidential conviction will mask the violation from your public record. Insurance companies will not see the confidential conviction.
A traffic violator school conviction will not be masked if:
There is a successful TVS completion within the previous 18 months.
The conviction is a major (2 point) violation (DUI or Reckless Driving).
The driver was operating a commercial vehicle at the time of the violation.
A Class A or B licensee operating a non-commercial vehicle (0 points displayed).
Important Traffic School Attendance Information:
A court may refer a driver to traffic violator school at any time. However, California Vehicle Code Section 1808.7 mandates that only one conviction in an eighteen (18) month period be masked from public view on your driving record. The eighteen (18) month period is calculated from citation/violation date, not class attendance date. Courts are required to adjudicate all major (2 point) violations; courts are prohibited from sending drivers who commit major violations to traffic violator schools for the purpose of masking a conviction.
If you need an extension of time, please contact the court which imposed the sentence; CTSI has no authority to grant extensions. You may attend any traffic violator school with a valid license status listed on the DMV's web-site. When you have completed the course, the school will issue you a receipt and the school will file the completion certificate electronically.
Benefits of Attending Traffic Violator School:
NOTICE: If you are eligible and decide not to attend traffic school your automobile insurance may be adversely affected. The citation will also go on your record and reflect the point count that goes along with the violation.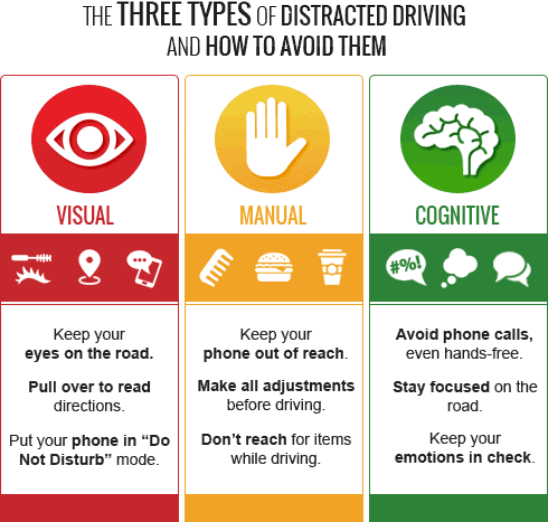 Distracted driving behaviors like dialing, talking, or texting on cell phones are dangerous. Other distractions like eating, grooming, reading, reaching for objects, and changing clothes are just as dangerous. These distractions take your mind, hands, and eyes off of driving and increase the risk of getting into a crash by three times.
A base fine for a first offense of using a cell phone or similar electronic device while operating a motor vehicle is $20. The base fine for a second offense is $50. The actual amount you'll pay once fees are added will be significantly more ($150 for a first offense and $250 for a second or subsequent offense). Your vehicle insurance costs will probably increase as well. After July 1st, 2021, the DMV will assess one point for a cell phone violation if the violation was within 36 months of a previous conviction of a similar offense.
If the cost doesn't convince you to keep your mind, hands, and eyes on the road, the number of deaths and injuries should. Driver distractions are the leading cause of most vehicle collisions and near collisions. According to a study released by the National Highway Traffic Safety Administration (NHTSA) and the Virginia Teach Transportation Institute (VTTI) 80 percent of collisions involved some form of driver distraction. According to the NHTSA, in 2018, 2,841 people died, and an estimated additional 400,000 people were injured in motor vehicles involving distracted drivers. Car occupants are not the only people killed or injured. In 2018, 506 pedestrians, cyclists, and other non-occupants were killed in distraction-affected crashes in 2018. Can you imagine killing or injuring someone just because you didn't want to take a minute to pull off the road to a safe place and park while using your phone? And just because you're stopped at a light doesn't mean it's okay to use your phone or electronic device. The law applies to stop signs and stop lights, too.
In California, you can only use a cell phone or similar electronic device in a hands-free manner such as in speaker phone, voice command, or one touch mode, but never while holding it. This means, if the phone is mounted, you can swipe or tap the screen ONCE to activate a feature. You cannot swipe or tap it several times to enter words for a text or email. Drivers under the age of 18 are prohibited from using a cell phone for any reason while driving. This law doesn't apply when a motorist uses a cellphone while driving on private property or places a call for emergency services. Be careful where you mount the phone, too – it cannot obstruct the driver's view of the road. California Vehicle Code Section 26708, paragraph 12, describes where you are allowed to mount a phone, GPS device, or other electronic devices.
More information on distracted driving can be found in the California Driver Handbook at https://www.dmv.ca.gov/portal/driver-education-and-safety/educational-materials/fast-facts/driver-distractions-ffdl-28/.